Trading commodity futures and options involves substantial risk of loss and is not suitable for all investors. You should carefully consider whether trading is suitable for you in light of your circumstances, knowledge and financial resources.
November Soybeans Struggle to Rally with Other Grains (written 5/17)
Old crop corn, old crop soybeans, and wheat all had a nice rally today.  November soybeans however settled well of its highs.  Here again, an ultra fast planting pace could be weighing on new crop pricing.  Also, a little hotter dryer pattern may be affecting wheat and to a small extent corn but soybeans should fair well.
Soybeans have worked hard to buy acreage away from corn since the March 30th USDA planting projections report and, the fast planting pace has some experts thinking that we could see a jump double cropped soybean acreage.  This could significantly loosen the tight ending stocks projections for next year.
See November Soybean Daily chart: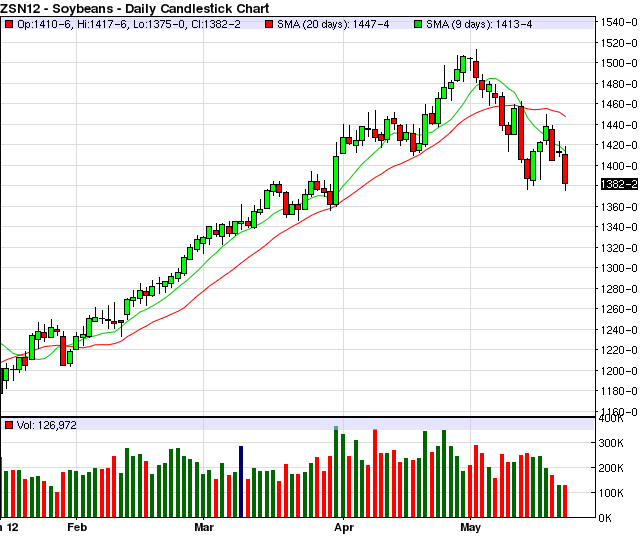 This means that speculators should be looking for opportunities and producers need to make sure they lock up prices that makes sense for their bottom line.  Give me a call for some ideas. In particular, producers looking to hedge all or a portion of their production may be rather interested in some of the strategies that I am currently using.
In my mind there has to be a balance. Neither technical nor fundamental analysis alone is enough to be consistent.
Please give me a call for a trade recommendation, and we can put together a trade strategy tailored to your needs.
Ted Seifried (321) 277-0113 or tseifried@zaner.com

Call Ted Seifried at (312) 277-0113
or e-mail him at tseifried@zaner.com
How to open an account with Zaner Group.
Additional charts, studies, and commentary can be found at Markethead.com.
Subscribe FREE to Zaner Group's Daily Research Newsletter.
Futures, options and forex trading is speculative in nature and involves substantial risk of loss. All known news and events have already been factored into the price of the underlying commodities discussed.